Did I mention how hot London was? When people ask how London was, my response is "hot"! Probably not a normal response, but it was my experience.
On to Day2 in London....
We started the day by sleeping late, thank goodness!! We then took the tube to Westminster and went to the Abby for the 10am worship service. Molly wanted to hear the choir boys, so we did. I SO wish we could have taken pictures there, but sadly, we couldn't. It was much smaller than I realized. It looks lots bigger on tv. After the service, we did take some pictures around WA, like in the courtyard, etc. Here is one of my favorites:
Then we hopped back on the tube, aka the Underground, back to Buckingham...because remember, we were trying to make the Changing of the Guard! (my #1!) I took this picture while waiting for the train. (the only one we waited for more than 1-2 minute!)
Now, also remember how empty outside of Buckingham was on Saturday? Well, not so much on Sunday!
Holly and I couldn't get close to the fence to see anything or take pictures. There were some police on horseback telling the people walking in front of BP to "keep it moving"...there was a walking lane that we found. And, luckily, one of them told someone to move to the other end...there would be guards down there soon. So, of course, I told Holly we should go down there. AND....on the way, we discovered there were openings in the crowds, and we could see the guards!! The only problem? We had to "keep it moving" back and forth, and back and forth. We did it so many times, I'm pretty sure the police woman was laughing at us, I KNOW we were laughing at us. We would make an immediate U-turn as soon as we got to the other said of the gate. We took pictures with our super fast cameras and got several shots like this...
Truth is, I saw very little, but had a blast doing it! What I did see reminded me of a band performance during halftime at a football game! Love it! When we decided we had walked back and forth enough, we headed down to the left end of the palace. It was here we got lucky. The crowd was only 2 people deep, so we found a decent spot and within 1 minute, the people in front of us left and we were on the front row! And, within another 3-5 minutes, we saw this...
This was good enough for me...we had to get to the tour gates because we had 12:00 tix to see Kate's Dress!!! YAY!! It's so amazing that everything worked out like it did. Even though Saturday was a mess schedule-wise, we still had a good time tour London. Now, I'd love to show you an amazing picture of Kate's Dress...something like this: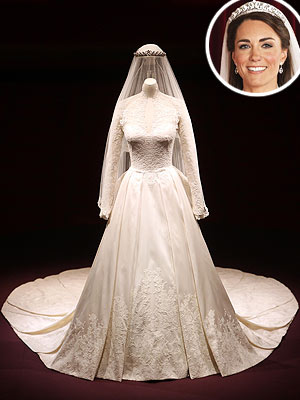 But, we weren't supposed to take pictures of it. And, I, of course, didn't. But, Holly did...with a point and shoot, no flash, it was just amazingly...AWFUL!!! LOL
It looks like a ghost right!?!? But, we had a good time totally breaking the rules. And have laughed every single time we've looked at this picture. (you can also see how pretty the walls of the ballroom are!)
We also toured all the state rooms and some beautiful places in the palace. After, we headed to Harrod's for some yummy lunch and because you HAVE to go to Harrod's! It was also fine, but I was super tired and couldn't truly appreciate it. Then we had to get back to the hotel, purchase our kids some London 2012 gear and head to the airport for our flight to Venice...what a crazy time...the taxi, the train station, the luggage, the school kids returning to school, the stinky boy sitting next to Molly. It was the worst part of the trip so far.
But, truly, when I think of London, I'll think of this...straight out of the camera...
Venice is next!!!