Is it crazy of me to take on one more thing? Of course!?!? But, I'm working on "Create" as my One Little Word, and I've been drawn to all these different ideas so I can create!?!?
I love photography. I'm getting better and better too. So, I'm taking another challenge, just for the month of Feb. My commitment is the photos, not posting here every day, but it might happen!?!?
On my friend,
Sarah's, blog
, I learned about this. You can learn more about
Joy of Love
if you want to, but essentially, I am sent a "prompt" every day of Feb. Your photos are to focus on who you love. So, who do I love? Well, that's an easy question!?!? I L.O.V.E. Heath, H, and M!?!? They will be the focus on my photos. Some days might be just one of them, some two, and if I'm lucky....all three!?!?
So, day one's prompt was "What they do" and day two's "How they look."
Day One: I got lucky. We have so many pictures of what we did yesterday with the snow! So, I'm going to choose a photo of something from yesterday!?!?
I HAD to run an action on it--mostly because I just bought some fabulous new actions from
My Four Hens
and they make me swoon!?!? I used "Vintage Color" on this one...SWOON!?!?
I love this picture because it shows the kids drinking their Chai tea after we built our snowman. Though they might not drink Chai tea every day, they do eat their snacks right there at our counter/bar! I love that!
Day Two: I read about this just minutes before Heath was heading out the door for work. He won't be back till after midnight (Please pLease let me be asleep!). Here are my three loves...well four, that chair is absolutely fabulous!?!? (Dang it, I just downloaded it from the camera and sadly only H is in focus!?!? What do you do? Use it anyway b/c it shows my flaws and growth!)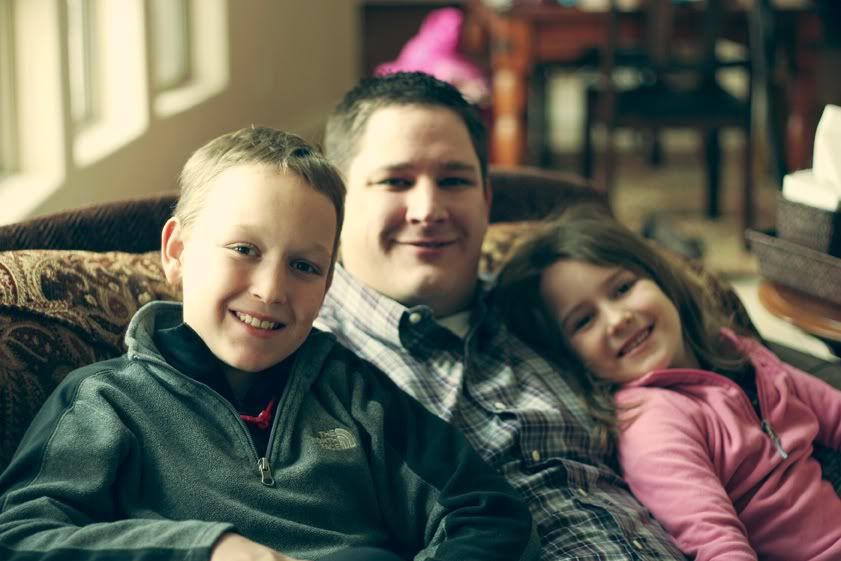 Well, I guess that's all for today!